ACAS Modules
ACAS is built on top of a universal registration, sample tracking, and data analysis database. This database combines the best features of relational and semantic topologies. The ACAS application server sits on top of this database and is modular, which enables us to build both general purpose and science-specific tools. The modularity allows us to rapidly build proprietary tools for our customers, as well as general purpose modules. Here are the general purpose modules that we have hardened and support as commercial off-the-shelf products.
Open Source Modules (GPLv3)
Base ACAS: Includes the ACAS persistence engine, services middleware, R script runner, and web GUI framework.
Experiment Loader: Intelligently parse templated data files with error-checking and image handling.
Dose Response: Automatically fit curves, review, curate, and approve curve fit data.
Compound Registration: Rigorous and highly flexible, with advanced salt/isotope/stereochemistry form handling.
Protocol Management: Easily store experimental data and metadata.
Additional Modules Available from John McNeil and Co., Inc.
Data Viewer: Powerful data search and filtering. Find, view, sort, and export data on all registered molecules
Plate Analysis: Compound library inventory tracking, data normalization and processing of raw instrument data files. Algorithmic or manual hit selection.
Biologics Registration: Highly flexible, captures single and combined molecules.
Contract Manager: Manage legal documents, contracts, and licenses.
Custom Experiment Loaders: Automated processing of instrument, CRO, and other format data files.
Study Tracker: Organize multiple steps of a scientific study. Useful for managing screening campaigns or pre-clinical studies.
Enhanced ELN: Includes PDF archiving of Protocols, Experiments, and data; Enhanced Protocol and Experiment Editors; and batch inventory tracking.
Experiment Bulk Loader: Load several experiments in a single file to multiple protocols.
Lot Inventory: A new module for vial inventory tracking on every lot in the system. Single and bulk load register and decrement vials.
Plate Analysis (HTS)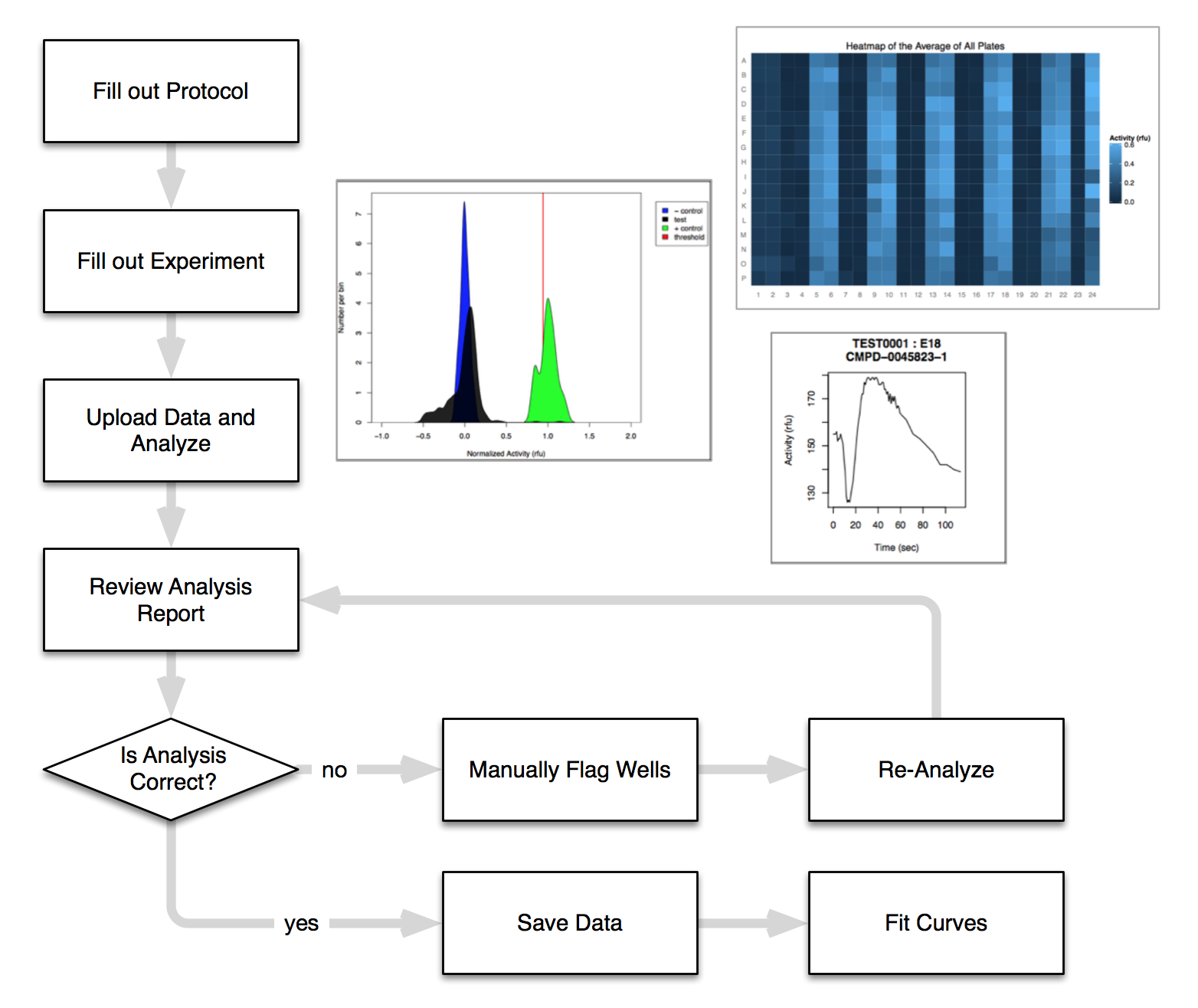 The ACAS Plate Analysis module is designed to automate as much as possible while providing the scientist complete data review and curation capability. We leverage ACAS's Protocol-Experiment system by storing analysis rules and parameters like positive control, normalization method, and hit-calling statistics in the Protocol. Basic analysis requires a few simple steps: create a new Experiment using the Protocol as a template; upload raw instrument data; click analyze; review the results; and save. Plate Analysis will look up the compound and assay plate contents from inventory, find the controls, normalize, transform, call hits, and make a detailed report. The scientist can override any setting, flag wells to be ignored, and add or remove hit wells. Plate Analysis works efficiently with a single plate or hundreds. Additionally, labs may use the Experiment Status feature to approve or reject experiments before they are shared with the project team.
Dose Response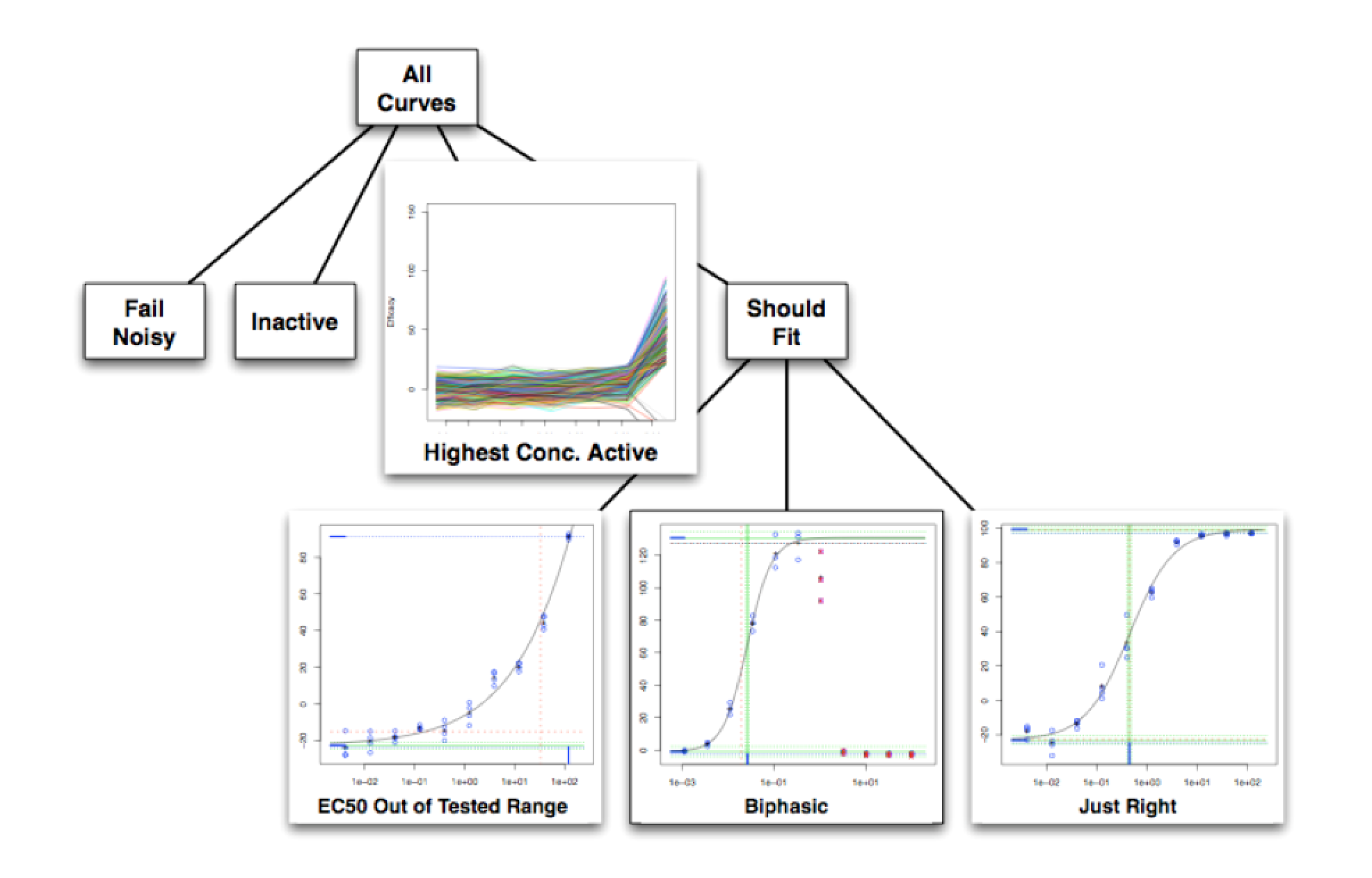 Like the Plate Analysis module, Dose Response Curve Fit is designed to work automatically yet provide complete control. It conveniently fits a few curves or a few thousand. To accomplish this we added a heuristic engine to the standard dose response fit mathematics. This logic categorizes curves by type and then applies specific rules, for example reporting the potency as "greater than" when the data do not support an exact value. Other features include respecting flagged wells from upstream analysis, and automatic well flagging for biphasic curves. The fit engine accepts curve fit parameters that allow the user to provide information about the biochemistry of the assay. For example, you can set the inactive threshold, pin the maximum value, and enable inverse-agonist curves.
Any program can fit pretty sigmoids, but ACAS handles the "curves" you see in real data, especially HTS follow-up assays. The standard fit module includes 4-parameter EC50 or IC50 fit, as well as Ki fit.
While our Dose Response engine does a careful fit, you may wish to individually approve or reject curves, override fit parameters, or even flag wells. ACAS's Curve Curator lets users filter by curve type (e.g. inactive, sigmoid, or weak) and sort by compound ID or fit result. This allows scientists to review thousands of curves quickly because their eye will quickly pick out problems if the curves currently displayed should all be similar.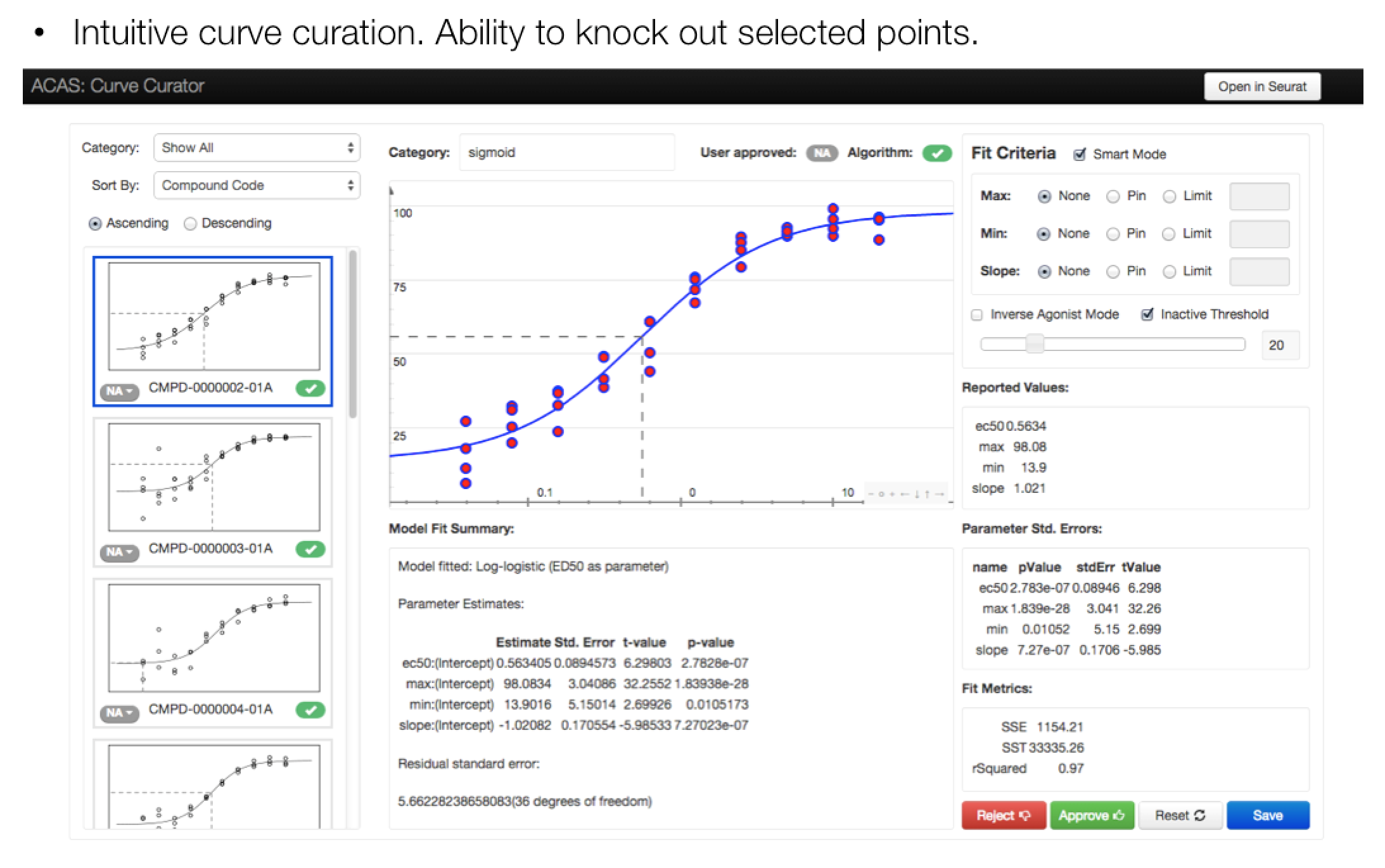 Data Viewer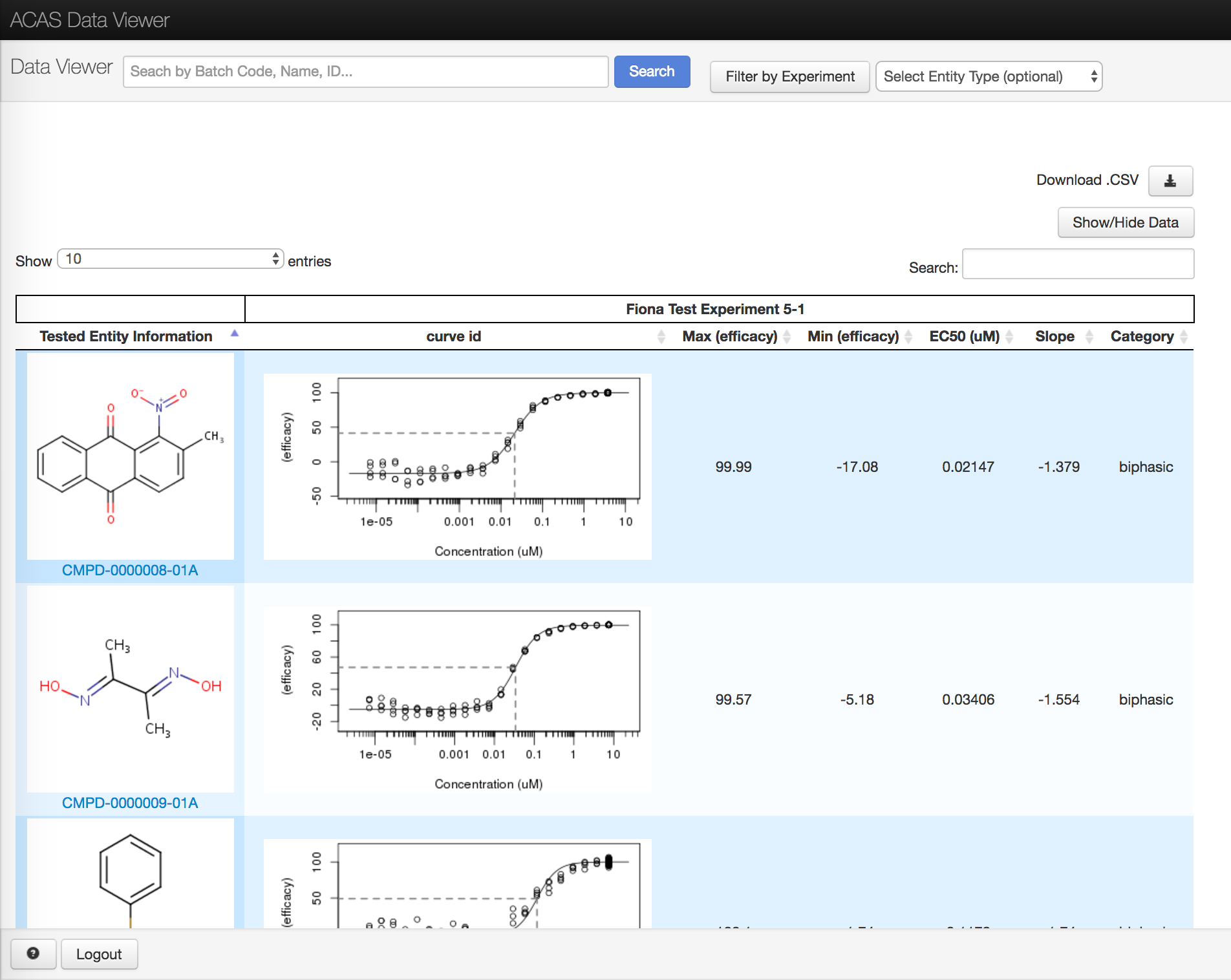 Data Viewer allows you to view all of your experiments and data. Data Viewer has two different types of search: simple and advanced. The simple search allows you to enter an entity ID, for example a batch ID, compound ID, or gene ID, and find all of the data for that entity. The advanced search allows you to limit the search based on protocol and experiments, filter the experiments, and filter the data based on the results. With so much control over the search, it is easy to generate the exact report you were looking for. Once you are satisfied with your search, you can also download the data as a CSV.
Data Viewer can also be opened from your experiments. Once you have loaded an experiment in SEL or Dose Response, you can open that experiment in Data Viewer straight from ACAS. Data Viewer will display all the entities and data for that specific experiment, including curves, images, and report files.
Study Tracker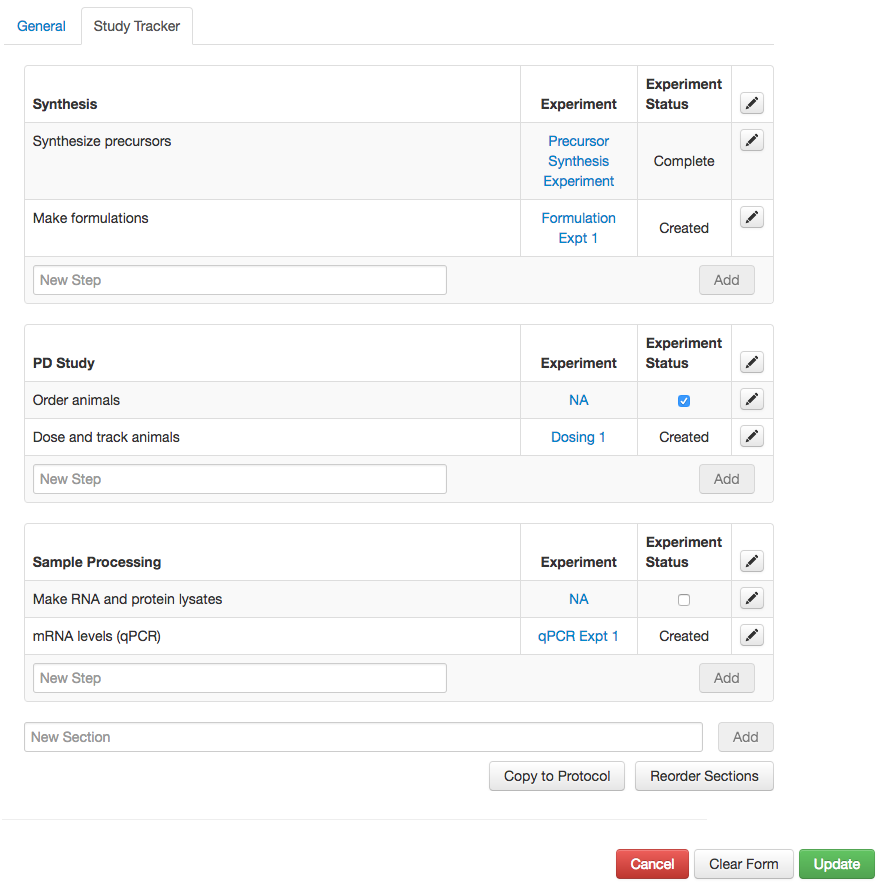 Study Tracker is a tool that lets teams organize multiple steps of a Study. This tool is useful for managing screening campaigns or pre-clinical studies. For example, if you need to manage a plan that includes synthesizing drug, dosing animals, collecting samples, then making a series of analytical measurements. You can think of Studies as meta-Experiments. The interface allows the scientist to define a list of steps. Each step can be managed as a simple checkbox, or tied to a sub-experiment, in which case the experiment's status automatically updates in the study manager view. Study Tracker also manages Study Protocols, which are used as templates to make new Experiments.
Contract Manager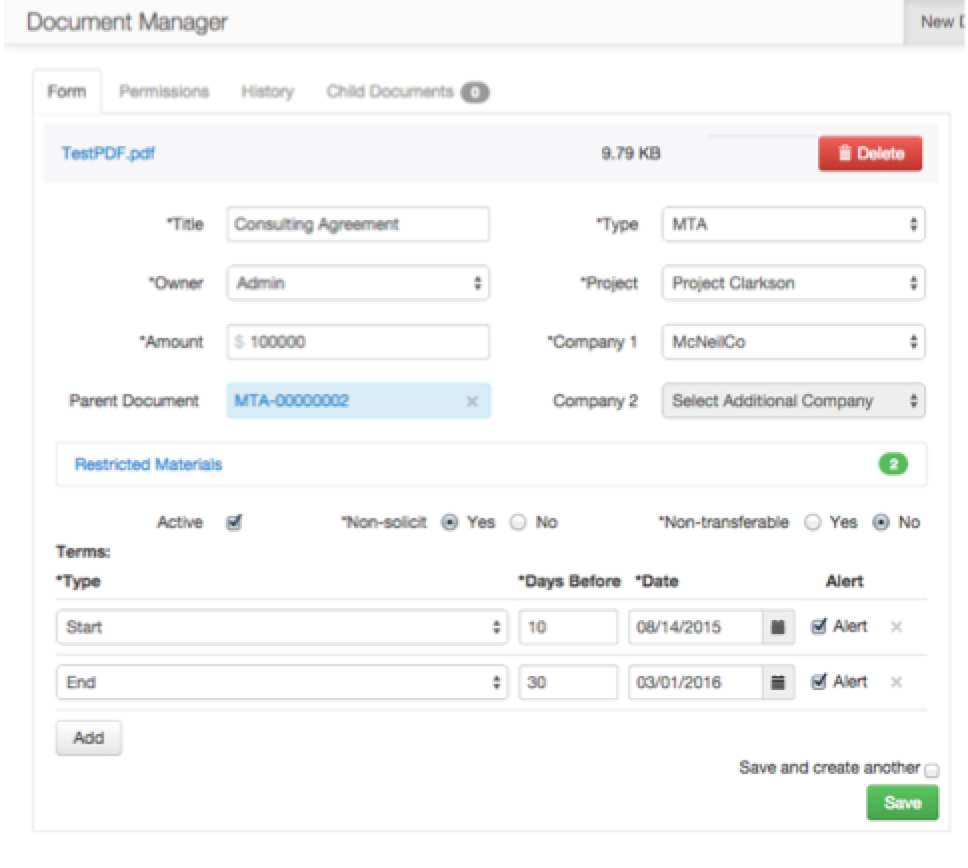 Manage all contracts, work orders, agreements, and other legal documents.
Linking of related documents.
Alerts for contract expirations and other customizable alerts.
Search by metadata, or full text search of attached documents.
ACAS Contract Manager helps you track contract documents and their modifications. It manages contract terms and sends automatic reminders for term dates like renewal required. Most importantly, Contract Manager tracks any items referenced in Material Transfer Agreements and optionally validates them against the ACAS registration system.